The Leather labels or eco-leather are the accessory that features and customize at best an item of clothing. A Jeans without its accessory, is anonymous and has no identity. The leather label customizes a garment and makes it unique.
The leather or imitation leather can be treated, waxed and aged to give it a retro feel. Also it can be laser engraved or branded, digitally printed, embroidered with yarn or ribbon, equipped with studs or Swarovski crystals, a multitude of processes to support the most varied needs of any type of fashion brand.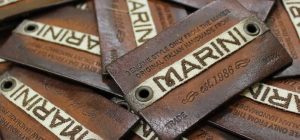 We provide the finished product, ready to be applied to the garment . We realize tags and washable leather labels, capable of withstanding the home laundering. The labels are made with certified 100% original Italian leather, nickel free and hypoallergenic. Each label has the same size and is perfect even in its diversity conferred by the leather.
The leather can also be aged in such a way as to give a worn and vintage.
We study the project from the paper until the organization of trade fairs. If you have a project to achieve and need assistance, you can contact us and we will be happy to help you.